Breakfast is said to be the most important meal of the day. We try to never skip it in order to have enough energy to seek adventures 😉 The best breakfasts are those that are cheap, tasty, made and served by someone else. Here are some restaurants in Warsaw where you'll find discounted, delicious breakfast foods.
Breakfast offers are becoming more and more popular in many restaurants in Warsaw. What does it mean exactly? Well, there are a few different types of discounted breakfasts. First type is one where you pay for the breakfast and you get a chosen coffee or tea for free (or for a symbolic 1 złoty). The other type is in reverse. So you pay for the coffee and get breakfast for free. Most of the places we describe in this post serve discounted breakfast on weekdays. The offer does not work, or is a bit more expensive during the weekends.
Aioli
Aioli is the precursor of breakfast offers in Warsaw, as far as I know they're the first ones to introduce the "pay for  coffee and get your breakfast for 1 zloty" offer. You can order any breakfast you want and the price will depend on a coffee you choose. We've been there many times before and tried many different breakfast options: full english, waffles with salmon, sandwiches with bacon and beetroot, breakfast pizza and many others. What's important is that the breakfast menu changes regularly so you'll never get bored with what you order. The offer is very popular among young people so you may find yourself waiting for a table in a long queue. Occasionally the food you get might be cold as well.
Deal: Weekdays: pay for coffee and get any breakfast for 1 zł; Weekends: pay for breakfast and get any coffe for 1 gr
Rating: 7,5/10
MiTo
Located next to Politechnika Metro Station is an interesting mixture of a cafe and a bookshop called MiTo. Here you can buy breakfast for 8 złoty. You can choose from 8 different breakfast options. We decided to get an english and a german option. So basically the hardest ones to digest. The food was ok, but nothing really special. We didn't leave hungry or disgusted but there was a feeling of dissatisfaction. It was just meh.
Deal: Breakfast costs 8 złoty (during the weekend as well), coffee's price is regular
Rating: 4/10
 
Momu

Spoiler alert: we liked Momu the best. But we still advise you to read the rest of this post 😉 What can we say about Momu? The food is great, the service is really good and helpful and we even we managed to order some things that are not on the menu without any problems (ginger infusion for a cold). And the breakfast? It's really good! Similarly to Aioli, the menu changes regularly so every few months you can try something entirely different. We ordered everything on the menu. And came back many times after to check what's new. As always we tried the english breakfast (at this point we can safely say it's our favourite), flatbread with smoked fish and for a dessert (to a second coffee) a sweet breakfast option. Everything there is delicious and we higly recommend checking this restaurant out!
Deal: Weekdays: pay for coffe and get any breakfast for 1 zł; Weekends: pay for breakfast and get any coffe for 1 gr
Rating: 9/10
Bordo
Another amazing place to get a discounted breakfast is Bordo, a popular restaurant located in the city center. When you're planning your breakfast there it's important to invite another person or build up an appetite as the offer concerns a second breakfast – buy one, get one free. We went there in a group of three so we had to order four different things in order for the offer to make sense. Of course we had to order an english breakfast and it was a winner. A huge "manly" portion. We really enjoyed baked eggs with lentils as well as bread, that they bake themselves, served with salmon and poached eggs. The last breakfast that we all shared was sweet. The chia pudding was nice but as a dessert, as a full breakfast it would not be enough. We'll definitely be coming back, because everything we ordered was really delicious.
Deal: Buy one breakfast and get a second one for 1 zloty
Ranking: 8/10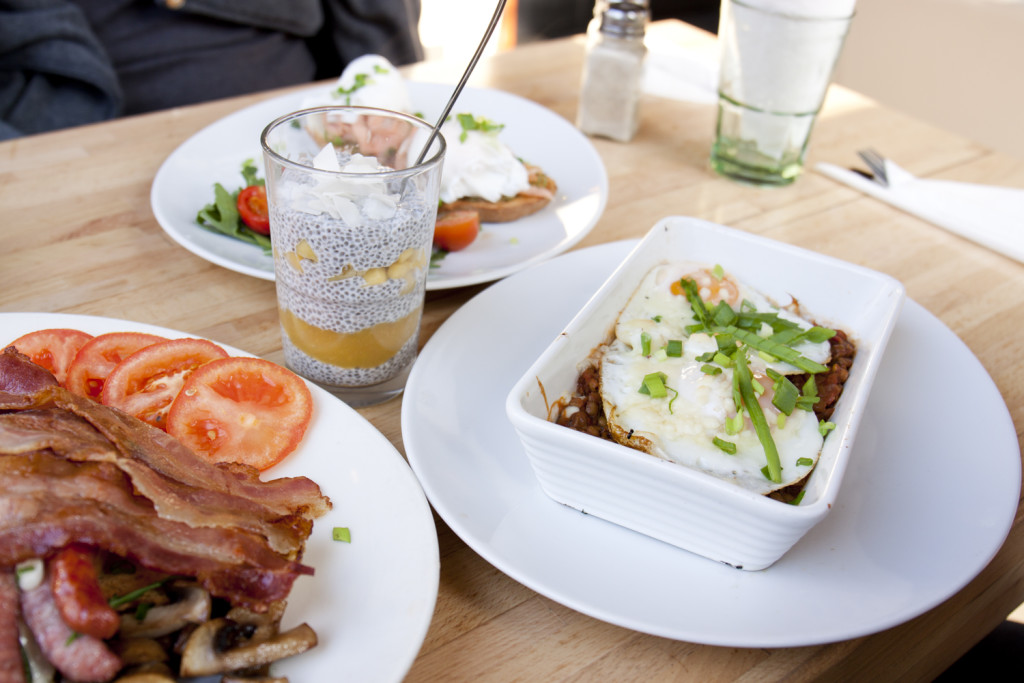 U Szwejka
Similar type of an offer as in Bordo restaurant (buy one breakfast, get one free) works in another popular restaurant – U Szwejka. We wanted to visit the place and try their breakfast menu, but the Instagram post on their profile discouraged us. The food did not look appealing at all. There was a ton of potatoes on a photo. And we approve of potatoes as breakfast only in the form of french fries, and that is only when we're hungover af.
Deal: Buy one breakfast, get one free
Słoik
The second week of our breakfast research started in Słoik restaurant in the city center. Here we ordered english breakfast as well. The second choice was a sandwich with cheese, ham and poached egg. The second one tasted like a typical sandwich a poor student would make for oneself. It was not very good. But the english version was pretty good. The portions are ok, but not really filling. All in all: nothing special.
Deal: Weekdays: pay for coffee and get any breakfast for 1 zł;not sure about the weekends.
Rating: 6,5/10
Everytap mobile app

There's one more way to get a discounted breakfast in Warsaw. Just download the Everytap app. There are many different reduction offers and they change regularly. At the time of writing this post there was a breakfast deal available in many different restaurants in Warsaw via the app. The one we really liked was breakfast churros in Mojo Picon restaurant for just 9 zloty. We hope the breakfast deal will come back to the app, so we're sharing it with you, hoping that this description will someday become relevant again 😉
That's it for this edition of breakfast research. But we did check out many other places. For now they're described in polish on our original version of a blog, but I hope to have them translated for you soon!
Zapisz
---
Freelancer, also known as an unemployed. Etnographer and photographer. She spends most of her free time in Photoshop or Lightroom. The sole purpose of her life is to travel around the world (on top of her must-see list are thecountries where she can stuff her face with tacos). She values people who understand irony. Enjoys minigolf as well. When she grows up she'll run her own hostel and a restaurant. She decided to start writing a blog only because she wants someone to send her a Boosted Board ;)
Inne posty autora