The situation is unusual. As a travel blogger, alternatively conducting research on the Warsaw entertainment industry I do not have much to offer in this new era of global pandemic, closed borders and restaurants, bars and all other cultural venues under lockdown. To make things worse, the first location I was planning to write about is actually the last place any of you would want to visit right now – Italy. So what am I supposed to do now? Well, instead of posting a guide to Milan, Bergamo and Como Lake surroundings, I'm going to share a story with Italy in the background. I will tell you how I actually got there. And most importantly with whom! Because this was quite an unusual trip.
Where did it all start? Obviously on Instagram like most of the interesting stories in the XXI century. Once upon a time, when Mięta was yet to become a very serious man (i.e. he was not employed full time at that time) we used to get up at 4 am just to drive to some shithole outside of Warsaw and take pictures at sunrise (you can actually check them out in our portfolio). And then one day a mysterious person called under the name of Marina Furdyna left an intriguing comment under one of such pictures of the sunrise: 'Take me there (I'll pay in Cheetos)'. What could we do? One does not say no to Cheetos. This led to a very quick exchange of thoughts. 'Where do you live?', 'here and there', 'wait outside tomorrow at 4.15', 'OK'. And she actually did that. Got into a car with two shady bloggers and went on a ride to Habdzin (lol, a dream destination!). You are probably asking yourself one important question now: did she bring Cheetos? She did not! 


Dream team: Marinara, Luigi & Kevin
This disrespectful behaviour was soon to be forgiven though as I was presented with an offer to join a trip to nowhere with a few strangers. Planning of the trip wasn't much different this time. I was invited to a Whatsapp chat with Marina (a.k.a. Marinara) and two other girls I didn't know at that time – Luiza (a.k.a Luigi) and Karola (a.k.a. Kevin, though she got this nickname during our second trip together but this is a little spoiler that the first one must have been a blast if we decided to repeat that! But please pretend you don't know this yet). The whole conversation again was rather short…
Marina: I'm buying tickets for a weekend trip to Bergamo. Wanna come?
Me: When?
Marina: None of your business.
Me: Count me in.
And off we went. Four chicks who got to know each other through Instagram. Barely knowing each other. Let's be blunt, it might have resulted in a complete disaster. Scratching each other eyes out with a wine opener. Or finding yourself on the same trip with someone who has completely different priorities: travels just to show off and do some shopping rather than wake up at an ungodly hour just to take a few pictures and walk 25 km on foot each day. Yet a miracle has happened and we turned out to be a dream team which eagerly hit the road to the Pizzaland with a song (of Eros Ramazotti) on their lips.
Milan – the mushroom wonderland
A flight to Bergamo with Wizzair was ridiculously cheap and once we landed there, we hopped on a bus which took us from the airport right to the Milan city centre for 5.5 euros. We then switched to the subway (if you're planning a trip to Milan consider getting a 24-hour ticket for 11 euros, 2-days ticket for 17 euros or 3-days ticket for 19 euros depending on your needs) to get to our Airbnb which we wholeheartedly recommend as it's huge and has two bathrooms (which is crucial with 4 girls travelling!). We then had a chance to verify whether Marina indeed speaks Italian or she was only pretending (she did a great job explaining the issue of a broken door lock so at least she's fluent with locksmithing terms – I give her 10/10!). In order to properly celebrate our first evening in Italy we decided to go on a romantic stroll in the rain and have some decent (though not the best one we had in Milan) pizza in the famous Piz. The rain turned out to be a blessing as we managed to get inside without any queuing (which is apparently impossible). If you ever get a chance, definitely check this place out for some great atmosphere and crazy walls, for an amazing focaccia and some home-made tincture (comes in different flavours, we got some alcohol-infused nutella).
The next day (as well as all the remaining ones) started in a truly Italian way, with some coffee and croissant in a pasticceria on the corner. And then we hit the road without much planning upfront. Just walking around, having a coffee, staring at the fashionable Italians, having a glance at some wonderful shop windows, walking around, enjoying another coffee and a great focaccia in Tamandi and then some more walking. Plus a good amount of fooling around and taking pictures. So let me cut the crap here and just leave you with some of those pictures.
We ticked off all of the must-see places such as the Cathedral, Vittorio Emanuele II gallery (where Moncler was actually holding some fashion show performance at that time), La Scala (though only from the outside) as well as a few additional bangers. I wanted to see the Bosco Verticale towers covered in trees and bushes and the other girls wanted to step by Kiko to do some shopping. Surprisingly combining these two was not a difficult task at all – all you need is to get yourself a peculiar green lipstick and then melt into this urban forest 😉 Oh, and don't forget to finish the day with some home-made pasta at I nusc restaurant which is full of local people! Just don't go crazy with food there so that your stomach can still fit some more delicious stuff when visiting a family-run trattoria La Magolfa. We've had tones of pizza there and still managed to devour some tiramisu in the end. And then we just died. But happy!

But the most important attraction of all in Milan is still ahead of us! Because it was all about visiting Fondazione Prada. A little hint from me: in order to fully enjoy the psychodelic mushrooms on the ceiling, enormous sweets and fancy old cars you need to visit the gallery on Friday evening. Majority of people choose to go there before the sunset to admire the golden facade of the building shimmering in the sun. But then all they think about on Friday evening is partying and the upcoming weekend, which leaves Fondazione Prada competely empty! We also managed to avoid the crowds in Bar Luce designed by Wes Anderson which is usually full. Oh, it might be worth to mention that it was open only until the end of last year (as it was a part of the exhibition curated by Anderson which I have already mentioned in my alternative guide to Vienna) so in fact you can only admire it on the photos now.





Como and Lecco – chillout at the lake
We are done with Milan. We get up at 6 am, hop on a first train to Como and begin the hunting for George Clooney. Fair enough, we woke up at 7, took the second or even third train that morning (come on, we're on holidays) and more than the celebrities' villas we were interested in sipping a cup of coffee and sunbathing.
The ride takes about 2 hours and a half (so make sure you take some croissants wth you) and it will cost you 6 euros each way. And what attractions will wait for you when you get there? You can take a stroll by the lake, eat some more croissants, enjoy your cup of coffee in the sun, gaze at people, lay down on the pavement next to the bull or count the yachts – and that would be it. We went there without any specific plan, just hoping to get some sun. And we got it!






Como is a tiny city and the options for the walks are limited, so once you get bored just hop on some transportation in order to get to the next village located by Como lake – Lecco. You may choose between a ferry (which is a faster and more spectacular option but also a more costly one) or means of inland transport which will take longer and won't be that fascinating but will save you some money. We opted for the cheaper one and took a bus from the bus station (located right next to the train station where we left off this morning) but if you have some spare coins with you I would recommend the ferry as I heard only good things about it! Why? The picturesque scenery is one thing, I guess each of us has been on the lake at least once in their lives so taking a boat on Como lake will probably not be a game changer for you. It's more about the time – the bus is mostly occupied by local people so it tends to stop in each village on the way from Como to Lecco. The only advantage is that you can get some sleep during this 1.5 hour trip but again – it's probably better to stay awake until the night and save the daylight for the strolls and yummy food.
We reached Lecco right before the sunset so we limited our visit to the main street, had some ice-cream and then just spent the rest of the evening walking by the lake and catching the last sun-rays of the day with some beautiful mountains in the background. What an astonishing place! Definitely worth visiting even for a short while just to stare at the lone sailing boats (I suppose there is plenty of them in the summer though) and dream about going on a cruise… 😉
After we ticked off the sunset from our to-do list, we got on a train in Lecco and went back to Milan. The price and time spent to get there are (almost) the same as to Como. We were initially planning to still get something to eat after we arrive but eventually we were too drained to leave our Airbnb and chose to stay in with some wine and memes.
Bergamo – stylish grandpas and the smell of fresh bread
We spent the last day of our trip in Bergamo. Or actually half of the day as the plane was leaving at 5pm. This time we really got up pretty early, packed our staff and head to the train station… to find out our train will be 1.5 hours late. Classic. We got some croissant to cheer up, waited for ages and when we finally got to Bergamo we were forced to do everything at an extreme pace in order to see as much as possible! Took us 15 minutes to find the luggage storage (it is not located in the same building as the train station itself but in the one facing it and not inside the building but outside of it, hidden by the gate). We put our luggage there, bought a 24 hour transportation pass (which allows to take any means of trasportation including the funicular and the airport bus for only 5 euros) and ran to the old town (Città Alta) located on the hill. There we have encountered another obstacle – 3 tourist buses packed with pensioners who were also queuing for the funicular. We were waiting for a while before we decided we have no choice but to climb up. They say a little fitness never killed nobody, right?
Tired AF we reached Città Alta. The scenery was breathtaking, people were super stylish and the sun was shining and warming us. The first thing drawing my attention on the streets of Bergamo was undoubtedly a crowd of very chic individuals parading through the sunny streets (did I mention it was Sunday?) and then the smell of freshly-baked bread and our favourite croissants! First stop: café. Quick espresso and let's hit the road. We also got ourselves a huge bag of various sweet pastries to make the day even brighter and went to the funicular which was supposed to take us to the next hill. As you're probably already suspecting, this couldn't end as a success either – it turned out that the upper funicular is out of service taking advantage of the low season. So what, shall we climb even higher? Sure thing!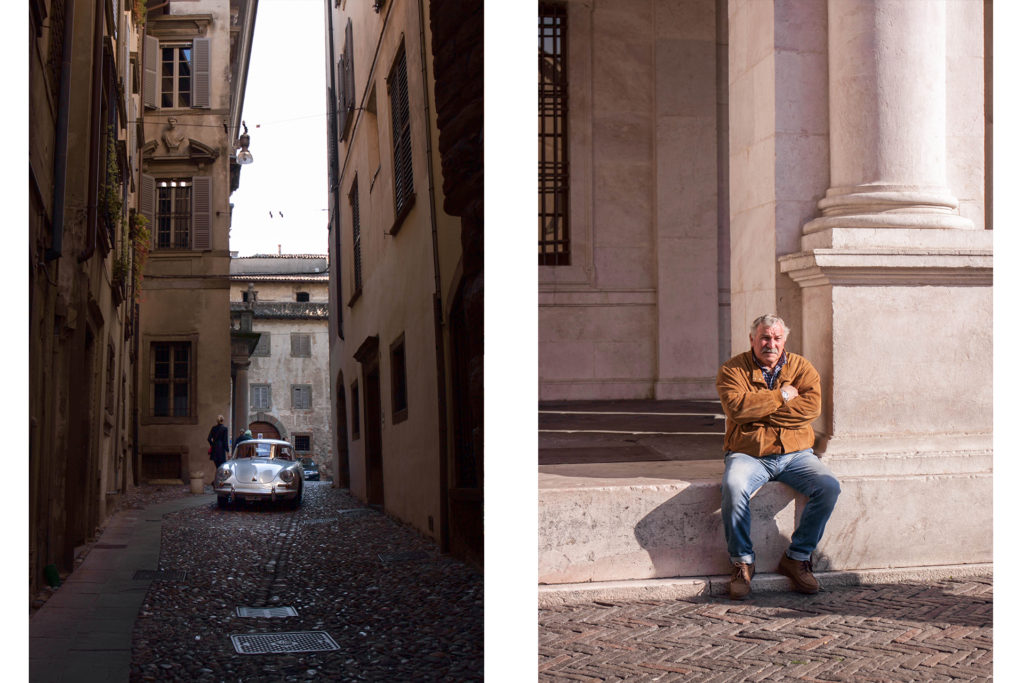 Don't worry, we eventually got to ride the funicular. Down the hill, after we did all those kilomeres on foot in the full sun. Well, I hope at least we managed to burn 1/4 of all the croissants we devoured. Feeling somewhat dissatisfied, we headed back to the train station to get our luggage back and from there we caught a bus to the airport. Luckily for us, this part of the day did not bring us any more (unpleasant) surprises. We will definitely return to Bergamo one day as it deserves more time and attention from the tourist. And we still have some more delicious food to discover there! Maybe next time we will just plan the trip in a way which will allow us to get there on Tuesday morning rather than Sunday afternoon. I feel the laid-back atmosphere would suit the narrow, hilly streets or Bergamo better.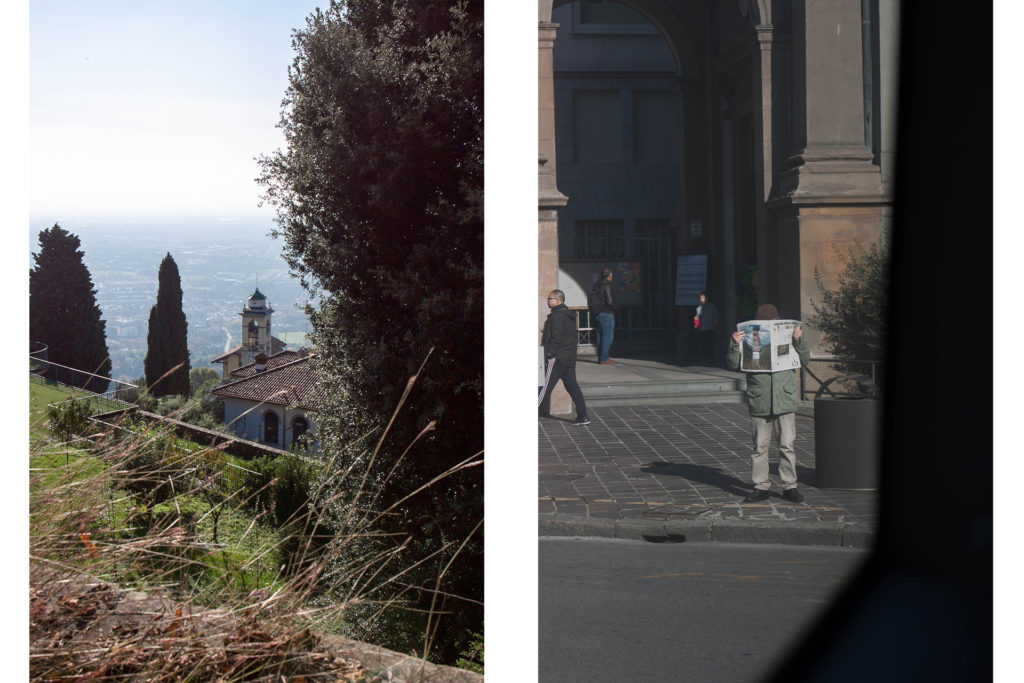 Ave gluten and see you on the next trip once this virus apocalypse is finally over!
And while you're staying home I recommend to focus more on your Intagram friendships. Who knows, maybe that chick who just commented on your photo will turn out to be the perfect travel companion 😉 Meanwhile time for me to say goodbye and go search for some cheap flights with my tried and true 'Grazie Resistere' crew!
---
Freelancer, also known as an unemployed. Etnographer and photographer. She spends most of her free time in Photoshop or Lightroom. The sole purpose of her life is to travel around the world (on top of her must-see list are thecountries where she can stuff her face with tacos). She values people who understand irony. Enjoys minigolf as well. When she grows up she'll run her own hostel and a restaurant. She decided to start writing a blog only because she wants someone to send her a Boosted Board ;)
Inne posty autora