You associate Faroe Islands with green landscapes, cliffs and rooftops covered with grass? Well, you're right. But to those of our friends who, while listening to stories about record stores, cosy cafés and fantastic restaurants, asked: "Are there cities in the Faroe Islands?!" we answer: yup, there are. And they're worth visiting! That's why today I invite you on a tour around Faroese capital – Tórshavn.
Don't you worry, there may be some urban vibes ahead, but there's still plenty of room for grass roofs. In this post I invite you to have a stroll between ministries with horribly long names. We'll visit a port, walk around a park, see some street art, drink delicious coffee and go to a nice souvenir shop. A lighthouse will also appear as a special guest. Of course, I couldn't miss what I enjoy most in my life: great food and visiting the only record store in the Faroe Islands.
But before we start, let me check your homework! Have you read my previous blog post? If not, catch up! It's an introduction to the Faroese summer adventure, in which I introduce our team, suggest how to organize a holiday in the land of the sheep and how much does it all cost. You can find the post HERE.
Thor's harbour
cause that's a translation of the name of Faroese capital, lies on the biggest island of the archipelago – Streymoy. Tórshavn is the largest concentration of people in the country, but its definitely not a metropoly, since less than 20 thousands people live there. It's an amazing example that even the capital can be intimate. Here you won't find neither concrete housing nor glass skyscrapers. The tallest building that we've seen had no more than 4 floors. The cruise ships that come here on a regular basis are way bigger than any building in the city. In comparison to small harbour houses they look like epic sea monsters. Being proper port town, Tórshavn has a few industrial and terribly ugly spots. But just one street further you'll be able to see something cute again. There's something for everyone.
Walking up to the lighthouse
It's best to start by ticking sea-side attractions of the list so let's go to Skansin – place that isn't really, contrary to the name, an open-air museum [Note: "skanen" in Polish means "heritage park"]. You will not find folk exhibits here, only a sixteenth-century fortress, several cannons and a tiny lighthouse. Apparently all the lighthouses looklike that in Faroe Islands, at least from what we saw. There aren't any tall ones here, like those we've seen in Estonia. I don't know the reason, but if I had to guess, I'd bet on the wind. On second guess, maybe it's due to the fact that there are no trees or taller buildings anywhere on the archipelago, so the lighthouses don't have to "compete" with anything as far as visibility goes.
The Ministry of Who-knows-what
Now it's time for the most touristy bit of our 'guided tour'. We're moving on to Tinganes peninsula, where you can find the equivalent of the Old Town. If you expect elegant tenement houses and fancy boutiques, you'll be surprised. The oldest part of town is a cluster of charming wooden houses with grass roofs. Some of them are inhabited (so don't go peeking through the windows, it pisses the residents off), but most of them are used as the headquarters of Løgtingið, faroese parliament. You'll find here such treasures as The Ministry of Labour, Infrastructure and Transport, which might as well be called the Ministry of Everything. Oh, to make it more interesting, in Faroese all this is written in one word – Samferðslumálaráðið. Beer is on me for those who can read it quickly three times in a row. Within Tinganes you can also visit a small wooden cathedral, Havnar Kirkja, built in the 18th century. It also had grass roof for a long time but it has been renovated and modernised.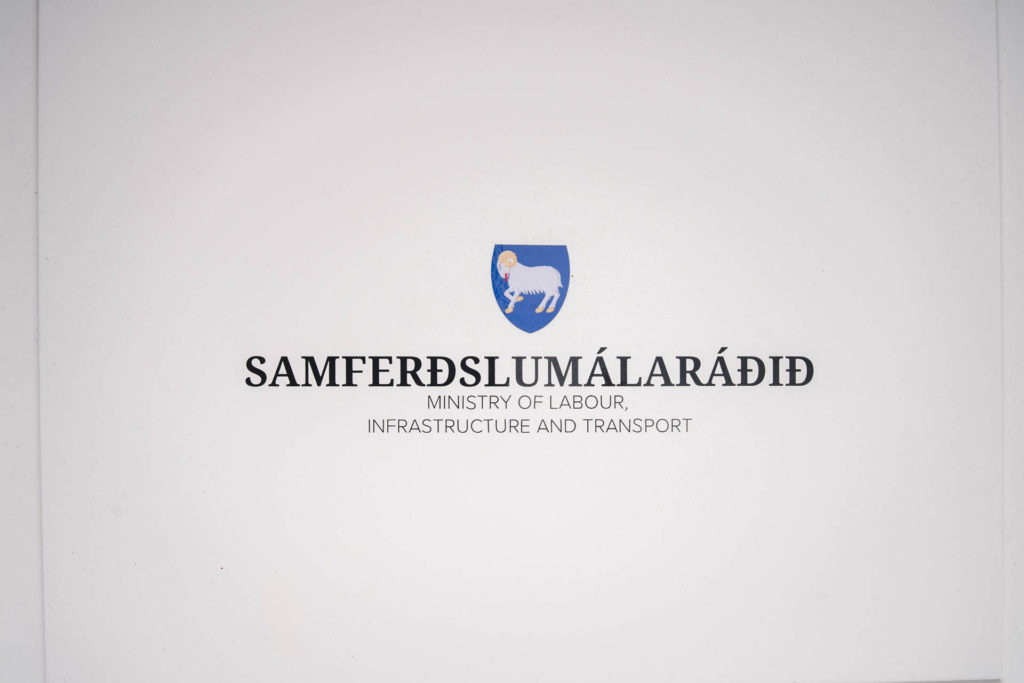 For those missing nature
If, after a few days spent in Faroe Islands, you became wild like us and can't find your place in the civilisation, go chill in Viðarlundin í Havn park. You can stroll by the river, see some local bird species (described on information boards), go inside colorful troll house or climb the "mini-hill". One can also dream about better life looking at pimped up cribs of wealthy people. It was the only place with really big houses in the entire country. All of the rest were small, wooden and cozy.
Searching for art
Faroe Islands is a place for artists. You wouldn't expect that, but once they're finished with work half of the society sculpts, paints, writes and records albums. The latter are published by local record company called TUTL. Their own records and many more can be bought in their store with the same name (address: Niels Finsensgøta 9c). My friends know that from every trip I take I bring back records instead of souvenirs. This time was no different. Although they didn't have the ones I dreamt of (they have limited pressings) I did manage to put my hands on a very nice album of experimental band called ORKA. If you don't know what you want, people who work at the shop are very helpful and will definitely recommend you something. You can also do your own research and listen to everything on the tablet with store's Spotify account where you can find dedicated playlists divided by genre. Another advantage of TUTL store is the possibility of taking part in a live gig, completely by accident. We were lucky enough to attend the concert of a local female vocalist called Marbles Lost.
But maybe you're more into visual arts? Don't worry I have something for you as well! You should definitely check out the National Museum of Art located in the middle of the park I mentioned earlier. The building itself is often listed as one of the local architectural treasures in many rankings. Inside there's a vast collection of local artists' works waiting to be discovered. Among them glass installation by Tróndur Patursson, inside of which one can feel as if you were teleported to the bottom of the ocean. Sadly, I didn't manage to go to the museum myself, since at first we visited the capital on Sunday, and the second time was a very quick trip just before catching our plane home. I regret that, but at least I have one more reason to go back to the land of the sheep as soon as possible!
Thankfully, there's art scattered around town as well. Whole city is covered in sculptures by local artists. In the information centre you can ask for a special map and go on an art-centered sightseeing tour. Many of the sculptures can be found around the National Museum. Aga couldn't resist posing with the "dynamic leg" sculpture, which became the object of many jokes during the rest of the trip, with us trying to achieve the heights of instagram modelling and failing each time. When walking around the city pay attetion to the walls. You never know where there's streetart around the corner. If you don't spot any murals, you can always see a house with a private bouldering wall. Which is a great idea.
Hungry yet?
After all of these attractions it's finally time to grab a bite. But first a very important information: for reasons unknown to humanity, the Faroese decided to live like Southerners and have siesta time. If you want to go to restaurants you must plan it carefully. Some of them work until 2-3 pm and later get closed for 3 hours. Some only open after 6 pm. It's better to have a reservation just in case. We did that in case of the best foodie experience we had during the whole trip: the Sunday lunch at Katrina Christiansen (you can book your table HERE).
Sunday lunch always looks the same. It consists of: traditional roasted lamb served with potatoes and red cabbage, green beans and rhubarb chutney. All of the ingredients are produced locally. The dish is huge and we couldn't eat the whole thing. It costs 175 DKK per person (a little less than 25 euros). It's worth coming here if only to see the interior. The restaurant is located in a very old wooden house (which belonged to the family of the owners for generations, I think) and you can listen to its history in… the restroom. There's a looped recording with trivia on the history of the building. After each fragment, a voice is encouraging you to go back to your table and share the info with your friends. No overstaying in the loo!
Another place tested by us was – not very pretty but wildly popular among locals – fish & chips stall. I didn't eat there since I spent all my money on vinyls in record store half an hour before, but my friends ate fish burgers with fries. And they did it outside, braving the unpleasant temperature. Their review of the meal was brief: "edible".
Coffee to keep you warm!
I won't hide the fact that there are no heat waves on Faroe Islands. So my scientifically supported recommendation is to have often stops in cosy cafés. And what if they have delicious looking cakes on the counter? Oh well. You have to suffer and eat it! The best pastries can be found in Paname Cafe. We tested rhubarb cheesecake, raspberry cheesecake and carrot cake, so I guess we're experts now. All of them were magnificent (but I'm a traditionalist so I enjoyed the carrot classic the most). The additional bonus is that you get to sit inside a beautiful wooden house covered with bushy grass with a truly hygge interior. While waiting for coffee you can visit souvenir shop/bookstore H. N. Jacobsens Bókahandil that's located in the same building. There's much to choose from and some souvenirs aren't that ugly (can you tell I'm not a 'souvenir person'?). Just one hint: magnets are cheaper at the airport.
You can also find amazing coffee and have a relaxing time in the small café called Brell. Lovely interior and colors like in my bedroom! Here you can drink coffee roasted in-store (and also buy a pack home) and play board games (in Faroese and Danish). There's also a store with super fancy food, but after a short research we discovered that most of the products were imported from other European countries. So I guess it's more of an attraction for the locals. Especially considering the prices that were succesfully scaring us off.
And that's all, folks! For sure, the capital of Faroe Islands has much more to offer but I'd need more time for the visit to discover all of it's hidden treasures. I will definitely come back, at least for National Museum and Nordic House cultural centre, where many events take place. If I manage to spend the night here, I will also check out the tropical atmosphere at Sircus bar which loked very inviting from the outside. Have you been to Tórshavn? Do you have your favorite places? Let me know in the comments!
---
Freelancer, also known as an unemployed. Etnographer and photographer. She spends most of her free time in Photoshop or Lightroom. The sole purpose of her life is to travel around the world (on top of her must-see list are thecountries where she can stuff her face with tacos). She values people who understand irony. Enjoys minigolf as well. When she grows up she'll run her own hostel and a restaurant. She decided to start writing a blog only because she wants someone to send her a Boosted Board ;)
Inne posty autora